I thought the snow we had last week was amazing.....totally grateful for the time spent with the little ones outside playing or inside cozied up by the fire. That being said, I AM READY FOR SPRING!! I still haven't taken the Valentine decor down just yet (my daughter's Valentine party at school was postponed until this Friday, and so she has informed me that Valentine's Day is NOT OVER YET!!), but I am so ready to bust out the bird nest decor, to put away the cozy blankets draped across every surface in our home, to let the light in!! I was crusin' the web this morning, and here are a few things that caught my eye in anticipation of the warmer weather.....thought you would enjoy too!
Let me just say that I am obsessed with everything
Katie Runnels
does! I came across some of her yarn-wrapped wreaths at Christmastime, and I made a few of my own to give as gifts. Now, I am totally ready to make a few Spring-inspired ones!
This blog
is new to me, but I spent a little time browsing through some of her past posts, and I am hooked.....she is witty, she is stylish and I want to move into her sunroom (pictured above) RIGHT NOW!! Why is it that I am totally drawn to the clean, fresh, white, bright, farmhouse style, yet everything in my house feels so dark???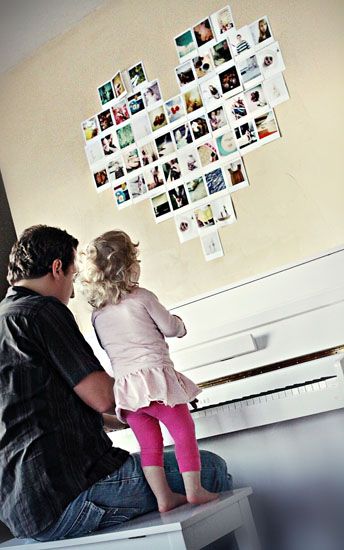 And I am definitely going to dig through the old photos boxes today and pull out every Polaroid I can find......I love this idea and I love the thought of using some of those old photos that have been sitting in boxes for years. What wall to use....hmmmm??