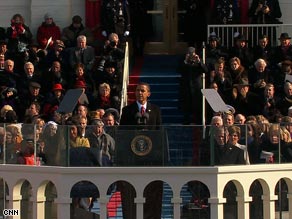 What a day!! I have been watching the coverage off and on all day and I soooo wish I could have been in DC today......can you imagine the energy in that city!! I have pledged my love for President Obama for many months now, so I won't belabor the point :) but I must just say that I feel so excited today, so hopeful and so energized. I really do feel like this is a turning point for ALL of us. I feel like we are headed in a new direction.......even the financial crisis is a chance for everyone to take a deep breath and reevaluate our priorities (do I really need to spend so much darn money at Target every week!!!). I feel like for the first time, ordinary people feel like they are truly part of this process......that we are realizing how similar we are truly are.
And once again, I have to say how inspired I am by Michelle Obama. She is someone that I can admire and learn from and she is someone that my daughter can be inspired by as well. She is educated and smart and savvy and funny and sharp and loving and witty and strong and nurturing and fashionable and spiritual and motherly......all the qualities that I believe make up a remarkable woman. I am just so excited to see what she brings to the Office of the First Lady....I am so interested to see how she manages her very important position with her role as a mommy to those 2 adorable little girls. 
This is just an all around great time for our country and I feel so blessed that both of my children get to experience this historic day!!